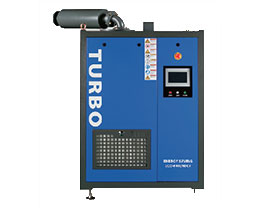 Turbo Blower

Turbo Blower A turbo blower is a kind of blower that produces compressed air with the permanent magnet motor. It is used for diversified uses in various industrial processes such as waste treatment facilities, mechanical conveying system, etc. Turbo blowers that Namwon Turboone manufactures adopt the highly efficient PM motor that realizes 98% efficiency due to the optimized design and the reduction of high frequency loss. Also, due to the application of oil-free, non-contact air foil bearing, direct connection technology and our own design of noise reduction package, our turbo blowers are less noisy than existing products. Furthermore, the vibration level is close to zero because it is a centrifugal blower that inhales and discharges the air simultaneously. Last but not least, the user-friendly control system, the highly efficient inverter and the perfect air cooling system that doesn't need any special cooling systems are outstanding advantages of Namwon turboone turbo blower.

Category:

Air Suspension Fan

Browse number:

566

Release time:

2018-08-30 15:37:53

INQUIRY
Turbo Blower
A turbo blower is a kind of blower that produces compressed air with the permanent magnet motor. It is used for diversified uses in various industrial processes such as waste treatment facilities, mechanical conveying system, etc.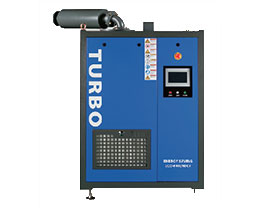 Turbo blowers that Namwon Turboone manufactures adopt the highly efficient PM motor that realizes 98% efficiency due to the optimized design and the reduction of high frequency loss. Also, due to the application of oil-free, non-contact air foil bearing, direct connection technology and our own design of noise reduction package, our turbo blowers are less noisy than existing products. Furthermore, the vibration level is close to zero because it is a centrifugal blower that inhales and discharges the air simultaneously.
Last but not least, the user-friendly control system, the highly efficient inverter and the perfect air cooling system that doesn't need any special cooling systems are outstanding advantages of Namwon turboone turbo blower.